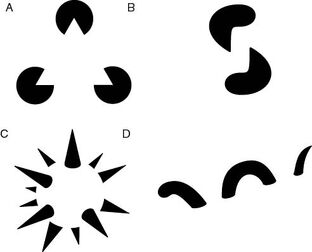 Reification is the constructive or generative aspect of perception, by which the experienced percept contains more explicit spatial information than the sensory stimulus on which it is based.
For instance, a triangle is perceived in picture A, though no triangle is there. In pictures B and D the eye recognizes disparate shapes as "belonging" to a single shape, in C a complete three-dimensional shape is seen, where in actuality no such thing is drawn.
Reification can be explained by progress in the study of illusory contours, which are treated by the visual system as "real" contours.