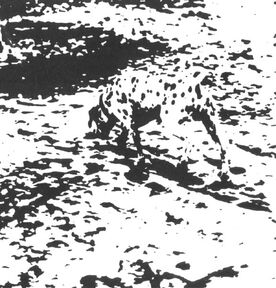 In philosophy, systems theory, science, and art, emergence is the way complex systems and patterns arise out of a multiplicity of relatively simple interactions. Emergence is central to the theories of integrative levels and of complex systems.
Biology can be viewed as an emergent property of the laws of chemistry which, in turn, can be viewed as an emergent property of particle physics. Similarly, psychology could be understood as an emergent property of neurobiological dynamics, and free-market theories understand economy as an emergent feature of psychology.
Emergence is the process of complex pattern formation from simpler rules. It is demonstrated by the perception of the dog picture, which depicts a Dalmatian dog sniffing the ground in the shade of overhanging trees. The dog is not recognized by first identifying its parts (feet, ears, nose, tail, etc.), and then inferring the dog from those component parts. Instead, the dog is perceived as a whole, all at once. However, this is a description of what occurs in vision and not an explanation. Gestalt theory does not explain how the percept of a dog emerges.